WATER IS THE MOST IMPORTANT SUBSTANCE ON THE PLANET. BUT NOT ALL WATER IS CREATED EQUAL.
KANGEN WATER – A REVOLUTIONARY TECHNOLOGY THAT CHANGES YOUR BODY AND YOUR LIFE FROM THE INSIDE OUT.
THE 3 PROPERTIES OF KANGEN WATER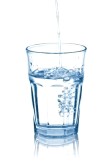 Kangen water contains 3 properties that combat oxidative stress. Oxidative stress is caused by free radicals that are present everywhere in our environment.
Oxidation in nature causes:
Metals rusting
Plants decomposing
Fruits decomposing
Our skin wrinkling as we age
1) ANTIOXIDATION
Oxidation (read aging) can't be stopped, research however indicates that the process can be slowed down with ANTI-oxidants. Antioxidants in liquids can be measured using an (Oxidation Reduction Potential) ORP meter.
The higher the negative ORP reading (higher antioxidant), the more effective the reduction of oxidative stress from your body, minimizing the risk of cancer and onset of other diseases.
Kangen water has the highest antioxidant measured compared to any liquid on the planet ( – 470 ORP)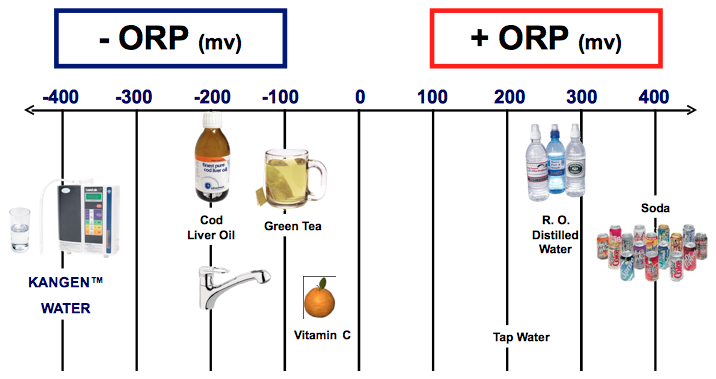 ---
2) ALKALINITY
Many of us lead an acidic lifestyle, from eating a lot meat (acidic), drinking carbonated water (highly acidic), experiencing negative emotions (stress), and not having enough sleep. This unhealthy lifestyle turns our body into an acidic state, where we are very susceptible to sickness and diseases.
"Cancer grows in oxygen-deprived acidic tissue… Disease cannot thrive in an alkaline body" 

– Dr Otto Heinrich Warburg, Winner of the 1931 Nobel Prize in Physiology and discovered the Cause of Cancer in 1923.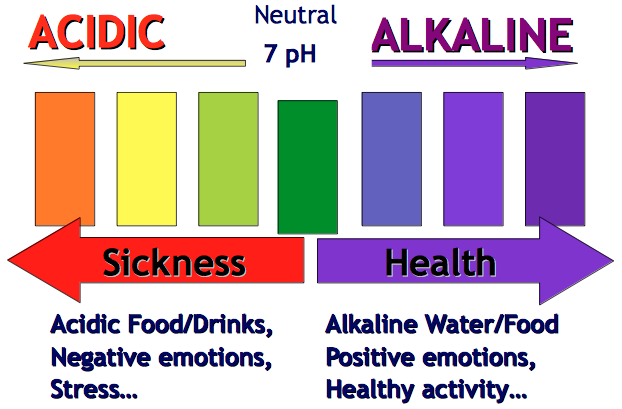 ---
3) MICRO-CLUSTERING
The "smaller" your water or rather the less clustered the molecules of your drinking water, the better your body will be able to absorb it and the more hydrated you will feel. Remember your brain is 85% water!!
Staying hydrated is very important for us whenever we carry out our daily activities. Staying well-hydrated helps us to increase our stamina, keep our mind alert and our nervous system calm, which means not only can we think better but we're more open in our capacity to be creative.
Ionized water has better hydration ability due to the micro-clustering of the water molecules after the ionization process. Non-ionized water molecules are found in clusters of 10 to 20 molecules while ionized water are found in clusters of 4 – 6 molecules.
---
What is Kangen Water?
Kangen, in Japanese, literally means, "BACK TO ORIGIN." When we were in the womb we were surrounded by an Alkaline fluid. When we were born we were born Alkaline. And when we were breast fed we were fed an alkaline fluid. Or natural, disease free state is Alkaline. It is a form of water found organically produced in specific natural environments that produce smaller water molecules making it more bio available for the cells to absorb thereby increasing hydration. And, bearing in mind ,we are between 75-85% water we need to be adequately hydrated, and most of us are not. At 46 I finally feel hydrated for the first time in my entire life. There are still five places on the planet today where people line up to fill their water jugs with water similar to what is coming out of the Kangen Water System. Those 5 places are; Lourdes in France, Tiacote in Mexico, Nadan in India, Nordenau in Germany and the Himalayan mountains. You could travel to those places and fill your water jugs with the same, high-powered water. But wouldn't it be cheaper and more accessible to have a Kangen water unit in your home?
MAYBE IT'S JUST HIP TO ALKALINIZE THE BODY?
It seems to be kind of hip right now to alkalinize the system; but what does that mean? An acidic body is a body that has a build-up of Hydrogen ions inside the cells (H+). Dis-ease LOVES an acidic body and all manner of dis-ease can thrive in an acidic body. The most dangerous result of the accumulation of hydrogen ions in the cells is that the cell will repel oxygen away from it because of the positively charged hydrogen – we want negative ions…. the more electrons in the body the more oxygen. That's why negative ions are so good for us. All energy production, aka your metabolism which is responsible for regulating a healthy immune system, a balanced body/weight ratio and for curing a sick and dying system, is of course dependent on oxygen.
METABOLISM
If there is no oxygen the mitochondria in the body cannot produce energy, your metabolism shuts down and your immune system weakens… lethargy and eventually sickness sets in. Drinking fresh pressed juices is beneficial in neutralizing acidity. But as a working mother with a toddler I don't have the time to spend sourcing, juicing and cleaning THAT much liquid when I can just turn on my kitchen faucet! And I can't always trust the organic food I'm getting hasn't been cross pollinated by inorganic substances.
ACIDITY
In today's society our diets and lifestyles have become so acidic that our cells can no longer meet the energy requirements necessary for basic immune system and metabolic functions. Just breathing in this day and age causes our body to acidify. Consequently we are coming down with such deadly diseases and we are becoming increasingly obese. The only way to begin reversing this acidity is through the mass consumption of raw fruits and vegetables or, a much more simpler and less time consuming method, is to drink KANGEN WATER! Japanese and Russian scientists figured out a way to create water with MASSIVE amounts of Hydroxyl (OH-) ions that can enter cells immediately and neutralize acidity. Before Kangen water, the only way to accomplish that was juicing or eating vast amounts of fruits and vegetables.
BOTTLED WATER
Do not be fooled by bottled waters that claim to alkalinize the system—THEY ABSOLUTELY DO NOT! Unfortunately we've fallen victim to the most environmentally destructive marketing campaign to hit humanity. The bottled waters on the market, claiming to alkalinize the system, are gimmick waters that have alkalinizing agents added to them such as Sodium Bicarbonate, Potassium Bicarbonate or Potassium Citrate. These additives do give the blood and urine alkaline readings BUT they do nothing to neutralize the accumulated acidity inside the cell as they do not contain HYDROXYL ions. Again, the only thing that can do that is the Hydroxyl ion mentioned above which these alkalinizing agents clearly do not contain. Fortunately, there is nothing that can produce a greater concentration of hydroxyl ions than the Kangen water machine (not even a freshly pressed juice) which is why every single household in the United States must have this unit in their homes. It is the best investment, other than a juicer, that a family can make in its health— hands down! This is why 1 out of every 6 households in Japan has this technology in their homes. It is vital to human health.
MICROCLUSTERING
The other property of Kangen Water that makes it so powerful in it's capacity to return your body back to its original balance making it better able to fight dis-ease is its microclustered properties. Today, our water typically comes in molecular structures of 13-20 units. Molecular structures of that size make it difficult to penetrate cell membranes and deliver vital oxygen to the mitochondria. The Kangen water machine literally breaks down the structure of the water to 6 molecular units. What does this mean? What it means, is two things. First, the ability of the water to penetrate cell membranes and deliver oxygen (and the powerful hydroxyl ions of Kangen water) is exponentially greater. However, equally important, is that microclustered water is able to penetrate, breakdown and utilize nutrients on a much greater scale. It will literally dissolve supplements you take into your body in minutes. This can be demonstrated over and over again using a tea bag. If you take any tea bag and use tap and Kangen water at room temperature you will see the following results: when putting the tea bag in room temperature tap water for 30 minutes nothing will occur. After 30 minutes, no tea will be extracted from the bag as we obviously know we must boil water in order to extract the tea from the plant. With Kangen water, however, immediately upon submerging the bag into the water you have a FULL-STRENGTH cup of tea. It is truly miraculous. Not only that, you can dip that tea bag into TEN cups of Kangen water and get TEN FULL-STRENGTH cups of tea with ONE tea bag! It is nothing short of shocking. The same thing occurs when this water is utilized with supplements. The supplements are immediately dissolved and utilized by the body. This is why you cannot drink the 9.5 PH Kangen water when you take medications. It will dissolve and absorb the meds too quickly. You must take meds with the 7.0PH water created by the machine. Again, this is just yet another miraculous property of this machine that is changing people's lives. It is alkalinizing the system and delivering vital oxygen and nutrients greater than anything available today.
Not only does the Kangen water unit produce water that will help restore balance in the body, but the machine's capacity to produce EIGHT different pH levels gives it a myriad of other household and cosmetic uses specific to each varying pH. Click here for an extensive, but not exhaustive, list of those uses at its varying pH levels.
"Kangen Water is alkaline rich water (ph 8-9.5), and is considered the very best drinking water because of its incomparable powers of hydration, detoxification, and anti-oxidation."

(Dr Hiromi Shinya, leading endocrinologist, clinical professor of surgery, head of the endoscopic center at Beth Israel Medical Center, Vice-chairman of the Japanese Medical Association in the United States)
ELECTROLYZED REDUCED WATER
Kangen Water isn't just Alkaline Water tho, it's ERW (Electrolyzed Reduced Water) which is rich in minerals, purged of impurities, and IONIZED through electrolysis to obtain Active Hydrogen which is abundant in "extra" electrons – in other words through the microclustering of it's structure the molecules that comprise this water are significantly smaller than other kinds of water. This means it's alkalinizing and antioxidant properties are able to actually get into the cells of your body and actually HYDRATE you. This makes Kangen Water a Super Anti-oxidant (the equivalent of FIVE GALLONS of blueberries in one glass?!). And this is why the Kangen Water machine is listed as a medical device in Japan for the treatment of degenerative diseases! All water is certainly not created equal.
"Free radicals are among the most damaging molecules in the body and are highly unstable molecules that are oxidizing agents and are electron deficient. They are a principal cause of damage and disease in the body. Oxygen free radicals contribute significantly to a broad variety of harmful conditions in the body ranging from life-threatening conditions such as heart disease, stroke and cancer, to less severe conditions such as sunburns, arthritis, cataracts, and many others. Free radicals MUST get electrons from somewhere and will steal them from whatever molecules are around, including normal, healthy tissues.Damage to tissues results when free radicals strip these electrons from healthy cells. If the damage goes on unchecked, this will lead to disease. For example, the oxidation of LDL cholesterol particles in arterial walls by free radicals triggers an immune system response that results in atherosclerosis, the principal cause of heart disease. The negative ions in alkaline water from an electrolysis machine are a rich source of electrons that can be donated to these free radicals in the body, neutralizing them and stopping them from damaging healthy tissues. Specifically, these ions have the potential to engage in the chemical reactions necessary to neutralize oxygen free radicals."

Dr. Ray Kurzweil, Award-winning Scientist, Inventor
WHY ALKALINE THE BODY?
Alkaline rich water helps balance the body's pH, which tends to be acidic because of our high acid food diet, stress and exposure to environmental toxins such as smog. Alkalize your body pH from acidic to alkaline pH, because cancer and many other illnesses experience alkaline environments as hostile to live in.
INTERESTED IN LEARNING MORE ABOUT KANGEN WATER OR RUNNING YOUR OWN AT-HOME BUSINESS SHARING KANGEN WATER MACHINES INTERNATIONALLY WITH ME AS YOUR PERSONAL MENTOR?
COLLABORATE with myself and others ACTIVATED to PROMOTE TRUE, SUSTAINABLE HEALTH in MIND, BODY, HEART, SOUL and FINANCES.
CONNECT WITH ME USING THE FORM BELOW:
HEALTH CONSCIOUS CELEBS WHO CURRENTLY OWN KANGEN MACHINES AND DRINK 9.5 pH KANGEN WATER…